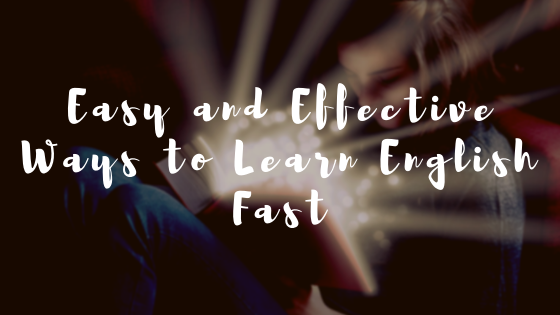 Easy and Effective Ways to Learn English Fast with English Learning App
Humans are learners. We begin our stint with learning the very day we come into the world and keep learning, consciously or unconsciously, till the day we bid an adieu to the world.
Learning is a constant process. From learning how to walk and talk to learning a new skill; our life revolves around the endless process of learning. At the end of the day, learning makes us what we are.
Easy ways to acquire a new skill
Once Mortimer Adler famously said, "The purpose of learning is growth, and our minds, unlike our bodies, can continue growing as we continue to live."
Learning nourishes our mind and soul. And, hence, to keep learning should be our sole purpose in our lives. Whether you are a teenager or an adult in your mid-fifty, you should never say no to learning. If you think learning is a hard process, let me share with you some easy and very effective ways to learn a new skill.
Dedicate some time in learning English every day with English learning App
First and foremost, you need to be a regular when it comes to learning a new skill. You need to dedicate at least some time every day in practice.
I am not asking you to spend 3 to 4 hours of your day into learning. On the contrary, efficient learning demands only 30 to 50 minutes. According to some studies, giving 30 minutes to learning something is the most efficient way of learning. And, your learning time should not exceed 50 minutes in one shot.
Just dedicate 30 to 50 minutes every day and you will be the master of a new skill.
Handwritten notes are the best
Whether you are learning a new language or music, you would need to attend a few lectures before moving on to the practical. Here, the old-school handwritten notes can accelerate your learning process.
In modern times, every learner uses a laptop or English learning apps to take the notes. This is an easy way but not the effective one.
According to a study, taking notes using paper and pen can make your learning very efficient.
Repeating whatever you learn is important but you must also consider the time interval between learning and repeating.
Do not repeat what you learn in very short intervals. At least give the second round a week's time. Repeating lessons in rapid successions do not let your brain to retain the information for a longer duration of time.
Pretend like you are teaching someone
This is a fun method to develop a new skill efficiently. Pretending like you are teaching someone can help you accelerate the speed of learning and remembering.
When you prepare to teach, you naturally acquire teaching strategies like organizing information and highlighting key points. These strategies help you to learn faster.
Find out different ways to learn
Changing the ways of practicing the motor skills help you to learn faster. Change your learning ways in every session to ensure a better performance.
There are many studies to back this effective learning strategy.
How to learn a new language?
Learning a new language always adds credit to your profile. Hence, you must always try to learn as many languages as possible. Starting at an early age is the best idea but adults can also learn the language fast.
Here are a few tips to learn a new language:
Whether you are learning English, Spanish or French, the best way to develop fluency is to connect with the live English experts using the best English learning app.
I have seen people spending all their time learning new words and correcting their grammar. But gaining English speaking skill is important too. The more you speak, the better you get and speaking with live English experts using English learning app is the best way to do so.
This will keep you motivated. There are many websites and English learning apps that connect you the live English experts. You can spend some time with them every day and refine your English speaking skills.
Investing a couple of hours daily in the language you intend to learn will help you learn quickly and very efficiently. If you give long breaks in between the study sessions, you might forget your previous lessons bringing you back to square one. So, in order to learn and remember the language, you need to spend some hours regularly on practicing the language in English learning App.
Keep a dictionary handy so that whenever you get time, you can read some new words. Also, if you come across a new word in the language you are learning, you can rummage through the dictionary and get the meaning. Plus, you will always remember the word.
You can take help from the latest technology. Download a dictionary app and English learning app and learn on the go. There are various best English learning apps available on app store where you can new words daily and improve your English vocabulary.
Watch movies and sing songs
What we listen and see stays more with us than what we read and hence, it is always advisable to use media as a tool to learn a new language.
You can watch movies and listen to the music in that particular language. Download podcasts in that language. This will help you in improving your English listening with clips from series, movies and songs available in English learning apps.
Once you get acquainted with the basic grammar and words, you can begin reading novels.  Start with books that have readable sentences and easy vocabulary. You can start with reading kids' storybooks and then graduate to the books that have a rich vocabulary. Make it a habit to read a newspaper daily.
Also, make notes in that language. This will help you remember the words and sentences. With English learning apps you can practice reading, writing, listening and speaking English.
How to learn English?
Like every other language, learning English also demands hard work, time, patience, and dedication. Learning English is comparatively easier than other languages as we keep hearing it in our day to day lives.
If you want to learn English and are totally unaware of the basics, you can begin it the way children do.
Have you ever heard an American child speak? He makes mistakes but is fluent anyway. You can learn to speak the same way. First and foremost, you need to let go of the fear of making mistakes. Making mistakes is fine as they help us to seek correction. Second, pay attention to fluency more than accuracy. Your focus should be on speaking confidently first and gradually move towards achieving refinement.
Just the way we learned speaking our native language as a child, American children learn speaking English. The stepping stone is exposure. They hear their family converse in English and this introduces them to the words.
Then, after getting an admission in a school, they move towards learning the technicalities of the language they are speaking. They learn characters, words, spelling, etc.
Here are some easy ways to learn English fast:
If you are totally new to the language, begin with the basics. Start with learning alphabets and new words. Read spellings and basic grammar with the help of English learning app for beginners.
Reading and writing are not going to eliminate your fear of speaking English. In order to improve your spoken English, you need to practice speaking English.
Stand in front of the mirror and speak. Loudly read the newspaper. Repeat the dialogues of an English movie. Listen to a song and hum along with the singer.
Read the dictionary, novels, and literature. Find new words and see their meanings in a dictionary. This will help you improve your vocabulary.
There are numerous websites and applications that have many courses designed to teach English to non-native speakers. You can use these applications to learn English.
EngVarta is one of the best English learning app to learn spoken English. This English learning app connects you with live English experts who help you to attain fluency in English. With regular sessions, they help you to speak English with confidence.
If confidence is your only issue, you can take help of EngVarta – English learning app. This is one of the most effective English learning app for you. Iif you understand English and little bit grammar but fear speaking in front of people, EngVarta helps you to deal with that. If you lack confidence in speaking, the speakers at EngVarta will help you to overcome your fears of conversing in English.
This anonymous platform has helped many people in gaining a fluency in English. You can take regular sessions on the phone and polish your skills. You don't need to carry your laptop everywhere as Engvarta is available for both iOS and Android devices. You just need to install the English learning app on your phone and you are all set to get a command over English.
With these easy ways, you can learn any new language, including English.
For Regular English Practice with Expert: Download EngVarta English learning App