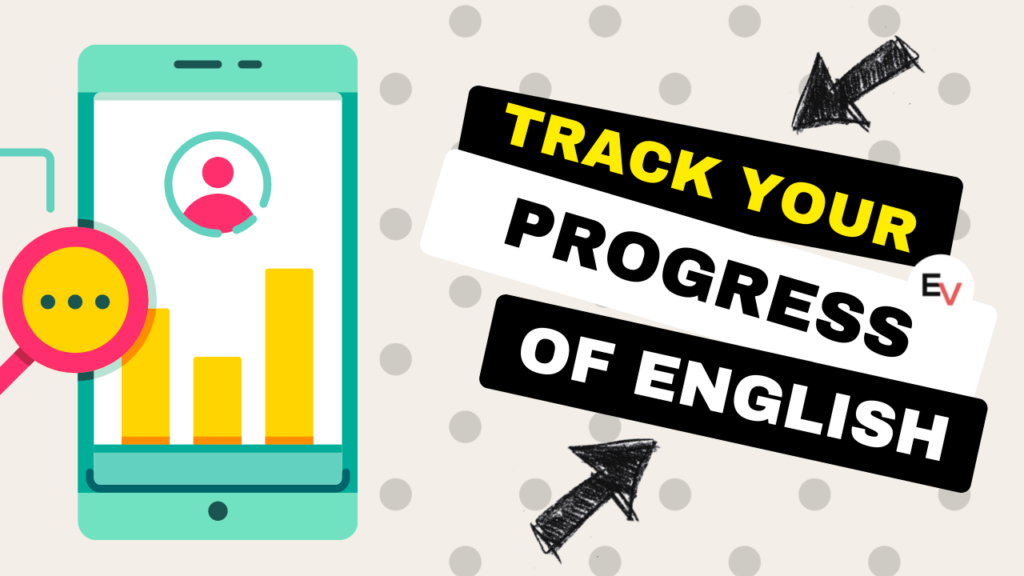 Sometimes when English learners practice English or when they speak in English, they feel they are not improving and this feeling discourages them to practice more English and achieve their goal of learning and speaking fluent English. So, why not create a method for yourself and track your progress in improving English on a weekly basis. The best part about this method is you can do it all by yourself. 
If you are an English learner, and want to check whether your English is improving or not, watch the video and try this method out. 
In this video :
Many English learners ask me this question – 
How do I exactly know if my English is improving or not? 
How do I measure my success when it comes to improving English? This topic often does not get any attention and due to that most learners give up in the middle of learning English because they feel that they are not improving or they can never do it. 
Well! Let me tell you – Whether it is English or any other language that you are learning, it takes a lot of time and effort to actually notice any improvement. But yes…. It is also important that you track your weekly or monthly progress of your English learning practice. Because only tracking will help you to stay focused on the activities that are actually important for improving your English. And it will also help you have realistic goals, stay positive throughout the journey, and celebrate your short achievements of improvement. 
See, the journey to becoming fluent in English is just like an endless staircase where you keep on climbing and you never see an end; you don't know when you're going to be fluent. But you can always look back and see how far you've reached. 
Now, the question is how will you measure your progress in learning English? How will you check whether your slope of improvement in learning English is rising, is it constant or is it falling? 
Tracking is not a hard job and you can do it all by yourself. You just need to give yourself a genuine self-assessment. 
Now how can you self-assess yourself? The first thing is – self-reflect on your journey. Many times when you see someone else speaking better English than you – You instantly start doubting your skills. Comparison is an evil that might help you sometimes but most of the time it leaves us drained of positivity – but that's another topic for another time.
 What you need to do is: Just take a moment to look back – what problems you were facing while speaking English earlier that you don't face now? For example, a few months back, you were not able to participate in a conversation but now you like talking to people in English. Maybe you are not as fluent as you would like but have you improved from what you were when you started a month back? 
You can follow these steps for a simple self-assessment 
Anytime during the day, sit down and take a random topic, especially a topic that you are interested in. Or maybe topics like – How does your normal working day look or how was your week so far. If you want to be more creative and make this activity real fun, Write 20 to 30 topics on a small piece of paper and put them in a jar. And you can just pick up one topic from the jar and then start speaking on them for 3 to 5 minutes or as long as you feel like talking. If it is difficult for you to search for these topics, I have mentioned a link that will lead you to a list of topics that you can speak on.
When you do that, make sure to record yourself on your phone. Don't prepare yourself in advance & don't take any notes, & yes don't stress out – it's just you who will listen to your recording so just be yourself & express yourself on that topic.

Once you are done. Listen to the recording. And what will you check? Your grammar, your vocabulary? No! You just have to check how easily you can bind words together and express yourself. And you need to do this on a weekly basis, maybe every weekend, just take out time for this one activity. And then you can compare recent recordings with past recordings. 
If you are in an environment where you have fewer people to talk to, this method can do wonders for your speaking skills.
You know- I suggested this method to one of the English learners at EngVarta and she noticed the difference months later when she heard her old recordings, she could see the massive improvements she made. She could now hear her mistakes and notice how inarticulate or less fluent she was in her old recordings as compared to now.
What I believe is, recording yourself is not just a way of checking your progress but also one of the best ways of practicing your English speaking skills. This is the reason the Engvarta, an English learning app has a feature of recording that can help you listen and analyze yourself after each session. You can also click the I button to check one such recording. 
And finally, something that we all can relate to – in a situation when we fail or we face a setback we usually hear a voice in our head that tells us – how much we don't know and makes us feel miserable. But along with this, we all have that one good voice that encourages us and tells us to look at the brighter side but when we fail that good voice vanishes somewhere making us think -I am not good enough or maybe this is not for me or I am too slow, etc.
So my advice is –  listen to the voice that keeps telling you that you are made up for great things & that will keep you motivated in difficult times, be it language learning or any situation in life. 
I hope the above video was helpful and you will use this method to track your English learning progress. 
WANT TO TALK TO OUR ENGLISH EXPERTS OVER THE PHONE CALL? 
Download the EngVarta app now. It is the best English learning app in India.