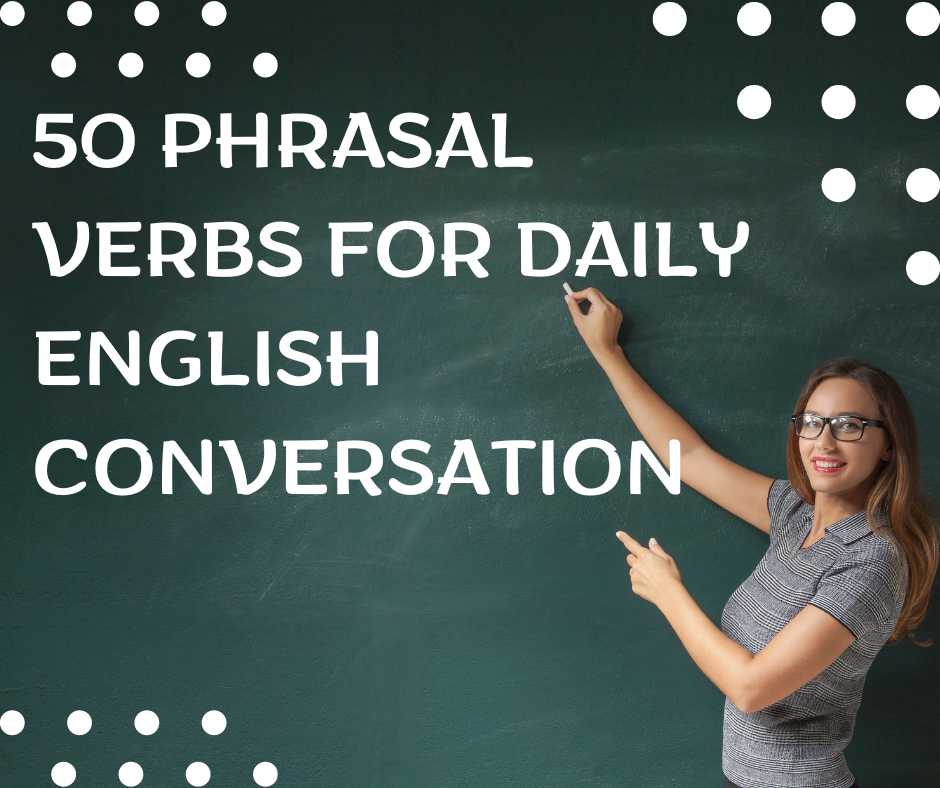 Phrasal verbs are very important in daily English conversation. 
They can help you communicate more effectively and accurately. Here are 50 interesting phrasal verbs that you can use in your daily life.
to take care of someone or something and make certain that they have everything they need
He looked after my pets when I was away. 
 to give your time to something and make progress with it
We can get with the celebration once we finish the work. 
 to accept someone or something unpleasant in a patient way
Nobody can put up with bad behavior for a long time. 
 to think of something such as an idea or a plan
My friends really come up with the best traveling plans. 
to stay friendly with someone, especially someone who can help you
You should keep in with her friend. They are really helpful. 
To give money in order to buy something
Let me pay for the dinner. 
to begin to do something that someone else was doing
Can you take over the cooking while I walk the dog?
 to stop having a particular idea or belief that is old–fashioned or not helpful
We want to get away from this idea that women are meant for cooking. 
 to phone, write, or speak to someone at a later time because you were busy or could not answer their question earlier.
I will get back to you once I finish my work. 
to delay doing something, especially because you do not want to do it
I was trying to put off the moment when I would have to leave.
 to stop hoping that someone will improve and stop trying to help or change them
Most of the teachers gave up on her years ago.
to not accept an offer or request
How could you turn down such a fantastic job?
to decide not to do something you agreed to do
I promised to help and I'm not backing out now.
to meet someone, or to find something by chance
I came across a word I'd never seen before.
to remove something from a surface by gently touching it several times with something such as a piece of cloth.
He put his handkerchief to his face and dabbed off a tear.
if something unpleasant or annoying eases off, it becomes less unpleasant or annoying
If the rain eases off overnight, we'll leave in the morning.
with the front or face towards the ground
He was lying face down in the water.
to be involved in an activity for a short time in a way that is not very serious
When he was younger he dabbled in astrology.
Comes down to 
to be the most important aspect of a situation or problem
In the end, it all comes down to who wants the job the most.
 to deal with something in a way that shows you do not have a serious attitude towards it
Stop trifling with her feelings! 
to say publicly that something must happen.
Several of the newspapers were calling for his resignation.
to be the main reason for something or the most basic part of something
It's difficult to choose which appliance to buy, but in the end it usually boils down to cost.
to choose one person from a group for special attention
Katie was often singled out for punishment.
Send off 
to post something to someone
I must get the parcel sent off tomorrow.
to reduce the number of possibilities or choices
We're working to narrow down the list of possible suspects.
 to seem to prove that something exists or is true
Her extensive library spoke of her love of reading.
to meet someone unexpectedly
I bumped into your mother at the supermarket.
to suddenly become angry and shout at someone
to reduce the amount of something, especially money that you spend
It's time we cut back a little.
to stop being friendly with someone because you have had a disagreement with them
Have you two fallen out?
to go or travel to different places
At the age of 85 Milly still gets around quite well.
Stay positive 
Hang in there! I'm sure you will find a job soon.
 to look or behave like an older relative
In looks she takes after her father.
to give people a particular opinion of someone or something
We hope her success will reflect well on the school.
to improve something by making it more interesting, attractive, or powerful
Certain scenes were juiced up for commercial purposes.
if something such as a pain, an emotion, or a feeling wears off, it gradually disappears
The numbness in his shoulder was starting to wear off.
to encourage strong emotions or behavior in people
Newspaper articles have whipped up fears of the new tax policies.
if something unpleasant or annoying eases off, it becomes less unpleasant or annoying
If the rain eases off overnight, we'll leave in the morning.
to have something as a final result
His attempt to persuade the boy ended in failure.
to plan in detail how something will happen
Her own future had been mapped out for her by her parents.
to discuss something such as an idea, often in an informal way
We tossed some thoughts around for a while.
to not touch something, or to prevent something from touching something
to reduce a price or an amount
Kelly knocked two seconds off her previous time.
to give knowledge or skill to someone who is younger than you and will live after you have died
These skills have been handed down from generation to generation.
to avoid someone or something, or to make someone else do this
I've told him to keep away, but he won't listen.
to admit that you have done something bad or embarrassing
Dan could have made this whole thing go away simply by owning up.
to have or do a lot of something; to focus on a particular thing.
When someone asked me how my day went, I majored in the things that went wrong rather than the good things.
to leave quickly, especially after doing something wrong
The kids made off when they heard us coming.
to find an extra meaning in someone's words or actions that is not obvious or does not exist
I think you're reading too much into a casual remark. 
to phone someone again.
I'll ring back later.