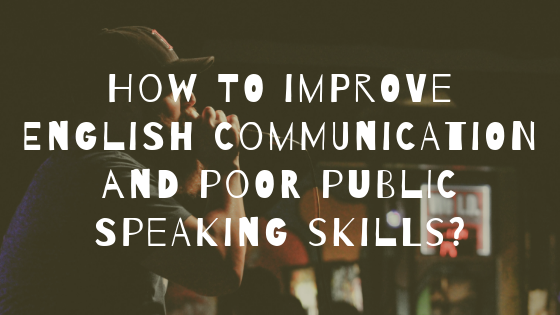 There are many people who have a good grip on the language but hesitate in speaking. Ask them to write something and you will be stunned to see how well they know the language. But then, what's the problem in speaking?

You would be surprised to know that the majority of people feel nervous while talking to other people, especially in English.
If you are one of them, here are some efficient and easy tips to improve your communication skills and confidence:
‣Listen to what the person is saying
While having a conversation with someone, you must listen to them. Listen to each and every word they are saying.
Listening to each other is the basis of a conversation. If you could not understand anything, ask them to repeat it. Once you know what they are saying, you can formulate your response. If you don't know what the other person is saying, you cannot reply anyway.
‣Who are you having conversations with?
Who you are talking to is an important point to keep into consideration while having a conversation. If you are communicating with your friends, you can use informal language. You can be easy and afford to make mistakes.
But, if you are conversing in a formal setting, you must be alert while talking. Maintain your poise, keep your confidence high, take a deep breath and carry out the conversation.
If you are in a placement interview, you must use Business English. For those, who do not know what business English is, it is formal English that is used in the corporate world. It incorporates the use of business and commerce related terms and phrases. Professional emails and faxes are written in business English.
To be fluent in business English, you need to learn business vocabulary. There are many online tutorials that help in polishing business English. You can give mock interviews to learn business vocabulary and phrases and simultaneously, prepare for the interview.
‣Body language matters
While talking to someone, you must pay attention to your body language. Don't come across as uncomfortable while speaking. Keep eye contact and speak with full confidence.
‣Be brief
While talking to someone, try to impart more by saying less. Be brief but clear. If you keep on exaggerating things, you may end up saying a lot without making any sense. This will further tarnish your confidence.
Be precise and confident.
‣Think before you speak
Always take a pause before speaking. Think about what you are saying to spare yourself the embarrassment.
How to improve public speaking?
Public speaking demands confidence and a good grip on English. If you keep the above-mentioned tips in mind while speaking, you can easily speak in front of the public.
Here are more ways to improve public speaking skills:
‣Prepare and practice
It is not a big deal to get nervous in front of the crowd. But, if you hit the stage preceded by days of preparation and practice, you won't get nervous.
Prepare yourself months ahead. Speaking in front of the mirror is the best way to practice. By watching yourself speaking, you come face to face with your mistakes.
‣Who is the audience
If you know who your audience is, you can connect with them. Learn about your listeners. This will help you in speaking fluently in front of them.
‣Don't be someone else
If you try to be someone else on the stage, it will definitely make you nervous. Be yourself and talk swiftly.
‣Learn to receive the feedback
You don't need to ask for feedback. Watch the expression of your audience and you would know if they are happy or unhappy.
After receiving the feedbacks, work on your weak points.
These are the easy ways to improve your public speaking skills. If you follow these tips, gradually your fear of speaking in public will vanish and you would be able to speak with full confidence.
For Regular English Practice with Expert: Download EngVarta Mobile App