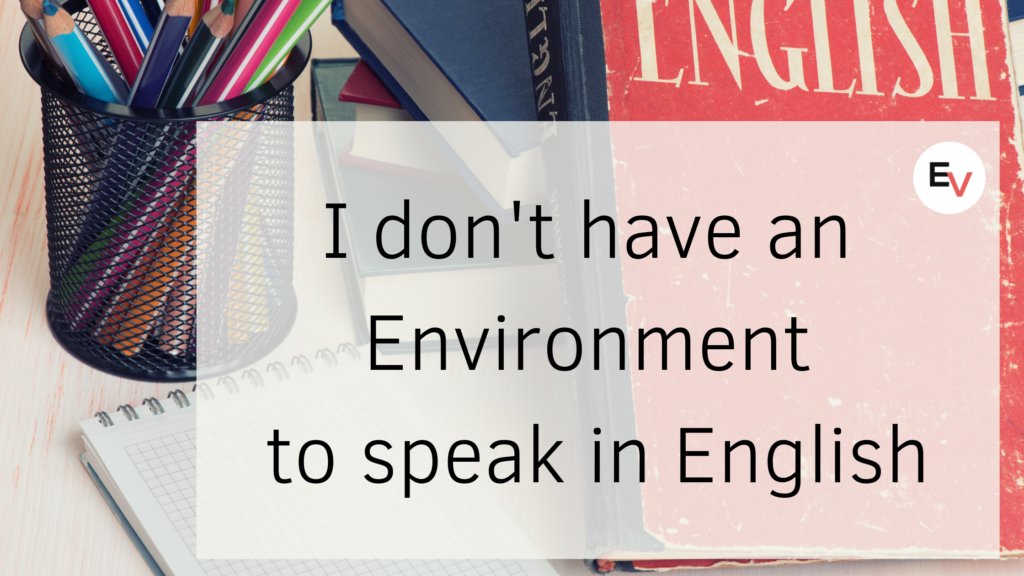 I don't have an Environment to speak in English –
A Problem shared by almost every English learner.
In this article we will help you with ways you can build an English speaking environment for yourself at home.
But before we jump to a solution, let's understand if this solution will work for you.
There are two kinds of people :
Who have partner or friends speaking in English around them but that environment isn't helping them because :
The people around them judge them for their mistakes and they are at a position in their career where they can't afford to make mistakes while speaking in English. So essentially there is an environment but it's a fear induced environment where you cannot be yourself while speaking – you cannot afford to make mistakes cause it's your professional work environment & your reputation is at stake. Therefore, speaking proper English is important for your career
Who come from a non English background ( e.g. from a village, studied in regional board )
They struggle to find people who can talk in English on a day to day basis – they are more excited to have conversations in English; but there is no one around them to talk in English with them and offer them guidance. These people, when they graduate and join a company there as well, have some opportunity to converse in English but then again peer pressure of getting judged for mistakes ruins their dream to speak in English.
So what we notice here is that people speaking in English around you does not mean that it's a favorable environment for you to learn and grow.
For growth and learning you need an environment where you're comfortable to make mistakes and learn and receive feedback without any feeling of being judged.
There are two ways you can build that kind of environment for yourself :
In this approach you can make a group of friends ( about 2 to 4 people ) who are excited to speak in English. 

Practice with each other on a daily basis.

You can do activities like debate, book reading, presentation or regular day to day conversation.

Keep a window of 1 hour conversation daily in a group of 4 friends where each of you gets the opportunity to speak for about 15 mins.

Offer each other constructive feedback about mistakes.
Pros : of this method is that it's totally free.
Cons : Since you all are struggling to improve English – there are chances you are not able to catch all the mistakes for each other and hence you might start speaking wrong English with the idea in your head that it sounds right. ( how fluent English speakers speak fast without translating & knowing it is correct  – the experience of sounds right or wrong is what helps us to speak fluently and that experience comes with listening and speaking.) But don't worry our next option is something you can choose if the community option does not work for you.
Talk with Experts at EngVarta
Engvarta app (

English learning app

) provides an English speaking environment for you where you

practice speaking English

1 on 1 with live English experts over phone calls. These experts of this English learning app are working professionals who have experience of life to guide you on how to communicate in different situations. The Experts will correct your mistakes and help you

improve your English communication

( be it grammar, sentence structure or pronunciation ) – These experts can help you achieve your English learning goal like ( Interview practice or IELTS practice ).
Pros :
It's a totally anonymous platform therefore you don't have to worry about someone finding out about your English speaking classes.

It works for you when and where you need it. You can plan your speaking session as per your convenience.
3. It prepares you for the real world – here you don't talk with one person instead with different experts on a daily basis – just like in the real world. EngVarta (English learning app) helps you to get comfortable with English as a language, not with a person. Because it happens a lot of the time you get nervous to speak in English with new people so we take care of that as well.
Cons : 
It's a Premium English learning app for serious learners. You need to buy a practice plan in this English learning app. Therefore if you're a working professional or preparing for IELTS or interview – meaning if English is important for your career then this

English learning app

is highly recommended for you. 
Now beside speaking environment there are other things as well that you may do in order to emerge yourself in English completely :
Listen to English music – (there are some really good artists and singers available – start with Justine Biber pop music collection). I try this activity where I pull up the lyrics of my favorite song and then sing it along with the music. It's stress relieving and also helps you improve your pronunciation.
Watch Regional language movies with English subtitles – this trick helps you find out how to say those sentences from your native language in English. For example, do you know how to say "

Babumoshai, zindagi badi honi chahiye, lambi nahi.

" in English – you would know it if you watch this movie with English subtitles. This trick is good because you're entertaining yourself while you're exposing yourself to English as well and your brain is learning along with enjoying the movie.

Watch English news, movies, web series – what it all does is that it helps your brain process English content. So if you're going to consume English you're going to deliver English in your communication as well. Listening helps your brain learn about sentence structure and pronunciation but you have to practice as well. Try this activity – when watching your favorite show in English – turn on subtitles and repeat the dialog as they happen ( do it alone – otherwise you will be kicked out of the watch party! ). 
If you're a fan of reading – then you can read but if you're into books then you can skip it as well. It's not super important as long as you're doing other activities like listening & watching English content. However reading has its own benefits – one of them is improving your imagination.
Take help of English Learning App: There are a number of English learning apps available you can download on your computer or smartphone that can help you to understand English and also practice speaking in English. 

Whether you are at the office, college, at home or in another place, you can practice speaking English. An English learning app can really be your best English practice partner.

This ones free – no need for a phone or friend you can do it yourself without any effort. We all do a lot of self talking and right now you're probably doing it in your mother tongue? Can you do it in English – Yes, but is it going to be easy, NO – however I believe you can do it. Just try, it will be annoying at first but soon you will start enjoying it & English will become your default language for self-talk.
There are countless other pieces of advice but I wouldn't throw more advice your way to confuse you – just remember – English is  language – Enjoy it. Don't be afraid to make mistakes. And believe in baby steps – that's how you grow!
Just remember – If you have a smartphone, good internet connection and a great English learning app, then you can improve your English pronunciation and English conversation skills no matter where you live.
To make your English learning journey easier – we have listed some of the best English learning apps that can help you improve English –
ENGVARTA –

Best English Learning app for android

DUOLINGO – Fun English learning app for learning languages

Memrise – English learning app for all

Bussu – English learning App For Writing English

BBC Learning English

Hello English – English learning app for daily practice

English Conversation practice

Fluentu English learning app

Babbel – English learning app

Enguru English learning app
P.S. – Are you serious about your Spoken English speaking skills?
Download the EngVarta app now. It is the best English learning app in India.