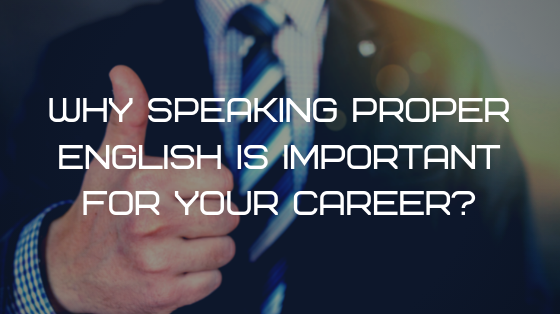 Right from our school days, we keep on hearing that we should learn English. We pay a lot of attention to learn English and even manage to improve our vocabulary and writing skills to an extent. But, when it comes to spoken English, we find ourselves in a tight spot.

If similar is the case with you, you must work on your English speaking skills. It will not just make you comfortable in your social circle but will also help you achieve your career goals.
English: The Global Language
When you step out of your college, you will realize that the world has shrunk. Many opportunities to work with many global companies will come your way. But, the lack of fluency in English might play a spoilsport. By the time you will work on it, the opportunity would be missed.
To avoid this, you must begin working on your English communication skills right now. With globalization, many leading firms are welcoming workforce from every corner of the world. This is a great opportunity for you as working with big names will not only offer you great exposure but also, this also translates into a better pay.
While working with people from across the world, you can only rely on English to communicate with them. In the absence of proper English speaking skills, you cannot imagine talking to them. The same is applicable while dealing with clients too.
The leading industries in the world have a good reach on the global radar. They have clients in every corner of the world. To deal with those clients, you need to have a good grip on the language.
English is the Universal Language for Every Sector
English is not only necessary for corporate or business people. It is the universal language of science and many other sectors. If you wish to become a doctor, scientist or a media person, it is very necessary for you to improve your English communication skills as the lack of these skills will take you nowhere.
English Helps You to Socialize
Career opportunities don't always reach you in white envelopes. If you are fortunate enough, you can get a good job with handsome pay at a party. But, if you are awkward with English, you may miss this opportunity as well.
Modern businesses are built through your social network. The more you socialize, the more you invite good opportunities. To spare yourself from any social awkwardness, you should learn English.
With good English, you will be able to connect with people from every walk of life and from any country. This will open many doors in front of you. Who knows if someday you land up with a job offer from a person you were chatting with last night?
How You Can Improve Your English?
Fortunately, there are many aids available at your disposal. EngVarta is one of the best websites that can help you by leaps and bounds to improve your English communication skills.
With the help of this website, you can improve your communication skills in no time. If you have a good grip on grammar and looking for ways to instil confidence in you, you can trust EngVarta. Through this platform, you can connect with live English experts that will help you overcome your fear of speaking English. Regular sessions will help you polish your communication skills and soon, you will be able to talk fluently in English.
EngVarta is available on Android, as well as iOS phones. You can download it and learn English communication skills when you are on the go.
The Last Note
Whether it's about making friends or getting a job opportunity, English is going to help you in every way. The universal language can take you places if only you realize its importance and work on it.
For Regular English Practice with Expert: Download EngVarta Mobile App