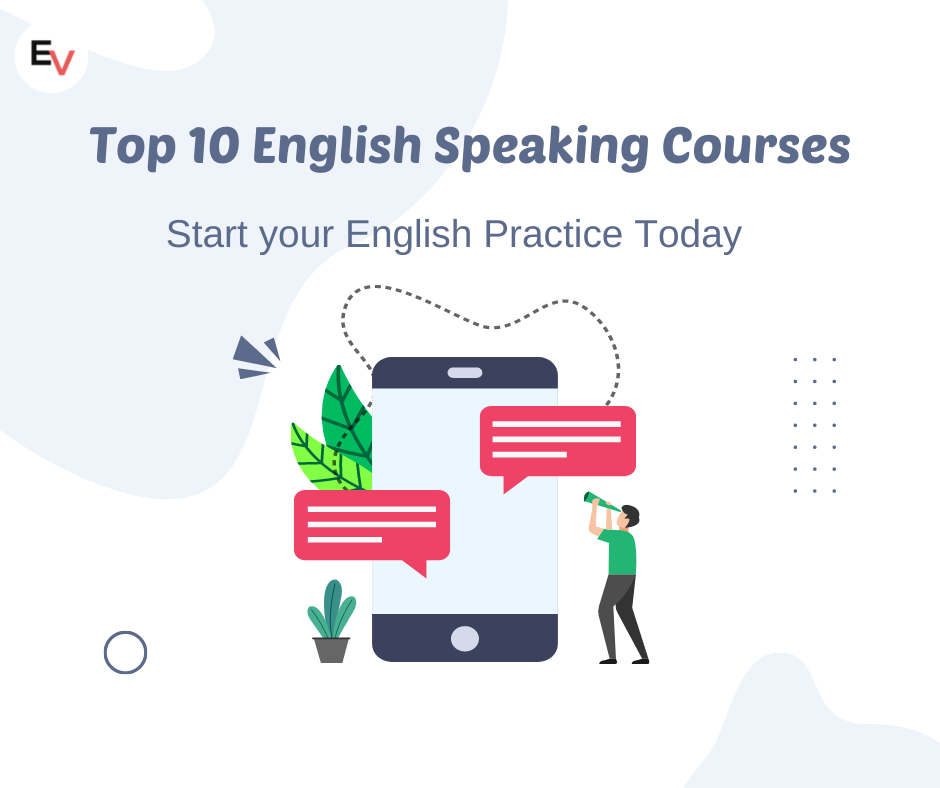 Whether your motivation for learning English is to travel, improve your job prospects, or simply connect with international friends, it is important that you choose the best way to learn English.
Something that is important to learning English is persistence practice. And the resources that you choose do not bore you, but keep your spirits high. 
This post will give you detailed information about what are some of the best English-speaking courses in India to improve your English. 
10 online resources that can help you improve your English 
Technology and the way we consume information is rapidly changing. This means that there are a lot of different online resources that can help you, whether it's for pronunciation, listening to podcasts, or improving your grammar skills. Here are the top 10 online courses that can help you improve your English 
English Conversation App : Engvarta
EngVarta is one of the best English speaking practice apps in India. 
Here, you can practice English conversation practice with English Experts at your selected time. 
During your live practice session, the experts will be correcting your
✔ pronunciation mistakes, ✔ Grammar errors and will help to ✔ frame better sentences to improve your overall English communication. All the sessions are recorded here for revision & you will also receive assignments after every session.
You can download the app from ios or android store and start with a trial session. 
The main purpose of the EngVarta app is to provide an environment so that you can listen and speak in English on daily basis.  You can practice English for your job interviews, IELTS, or to master communication skills. 
After every session, you get a recording of your previous conversation, so that you can listen to the feedback again and identify the corrections that you need to make. On completing 10 hours of practice, students are awarded a certificate of completion. 
It is undoubtedly the best English app for anyone who wants to practice speaking English on a daily basis with Experts. 
Coursera is an education platform offering free online courses in a wide variety of fields — specialties including business, computer science, data science, humanities, and language. The classes are known as MOOCs (massive online open courses), which means you can take them on your own schedule, at home, from anywhere in the world. 
This Specialization can help you improve your professional English communication skills. Each course focuses on a particular area of communication: writing emails, speaking in meetings, doing interviews, giving presentations, and networking online. Whether you want to communicate with potential employers, employees, partners, or clients, better English communication can help you achieve your language and professional goals.
This course is best for anyone who is at a beginner level and wants to practice overall English communication skills. 
Coursera – Learn English: Advanced Academic Speaking and Listening Specialization 
The University of California, Irvine has partnered with Coursera to offer an online course focused on the English used in academic settings.
This specialization will prepare you to take academic courses in an English-speaking environment. You will develop the listening and speaking skills that you'll need to be successful in these courses. As you work through the specialization, you will have opportunities to practice your listening comprehension skills, work on presentations, and conversations, and learn how to choose appropriate study strategies.
Fluentu is an online course that helps you learn English through video. But it's not just any video. Fluentu video course uses fun, real-life English videos like movie trailers and music videos to help you learn English naturally.
Fluentu is customizable to your needs and interests. If you love movies, you'll see more movie videos; if you love sports, you'll get more sports videos. The videos are all in English, of course, but there are captions in many different languages so that you really understand what everyone is saying.
You'll also be able to learn vocabulary through pictures and example sentences. You can even add new words to your own vocabulary list for later review!
Youtube – Learn English with Let's Talk 
Let's Talk offers many lessons, all organized into different playlists, that may as well be an English course! They provide video lessons that can help a beginner to understand and start using the English language for daily conversation. 
Their lessons are worth binge-watching. From pronunciation to English grammar rules to advanced English phrases for different real-life situations.  
Let's Talk is a great resource for beginner English learners, but its entertaining lessons are helpful for native speakers to brush up on their language skills!
If you're having trouble mastering the English language, then this course is for you! This course offers many methods for training your speaking/listening/writing abilities so that you can improve your overall English skills.
In this course, your teacher is Kendra Lucas. The course contains : 
The Writing & Grammar Lessons will teach you how to organize your thoughts clearly and precisely in your writing.

The speaking practicing speaking English with frequent repetition drills, voice recordings, and answering questions out loud when prompted.

Vocabulary-building lessons help you understand English words in a way that will make you sound more professional.

Test your vocabulary by answering questions about the texts you read.
For anyone who wants to practice English speaking or writing, Alison's free English language course is a great place to start.
English is the language of business and travel, and knowing how to communicate effectively makes your life much easier. However, language learning can be hard work. Alison's interactive training helps you to build your confidence as you learn.
This English language course has three levels: beginner, intermediate, and advanced. Each level includes lessons in speaking, writing, vocabulary and grammar. At the end of each lesson, you'll find an online assessment so you can test your understanding.
Skillshare is a community marketplace for learning and teaching online where students learn real-world skills from incredible teachers.
It's a place where anyone can teach what they know and love, and anyone can take the classes they want to get the skills they need.
If you're aiming to become fluent in English, this course is for you. Luke has seen students master the skills they need to really use English at a high level after working with the lessons in this course over many years.
This course comprises: 
Essential English grammar, including difficult tenses, quantifiers, and more

English for common social situations, like inviting, giving advice, talking about movies, etc.

English skills are necessary for descriptions, comparisons, explanations, etc.

Hundreds of native vocabulary and expressions are needed for fluent conversation

English knowledge for challenging things, like writing emails, giving presentations, and debating
EF English Live is the world's leading online English school. Every day, the students have thousands of live conversations with qualified native-speaking teachers. The teachers are based in our 24/7 online classroom, so there's a class available at any time of the day or night.
EF English Live is a social learning community where you can meet new friends and practice your speaking skills. You also get access to our discussion forum and a library of over 20,000 free e-books.
Oxford Online English is an online English school offering premium-quality online English lessons to suit your needs. They bring to you the best English teachers from around the world, so you can learn English online, whenever and wherever it suits you.
They have a wide range of courses on offer, from general conversation classes and business English to exam preparation and writing courses. You can also choose between one-to-one classes with personalized attention or group classes with other students.
Conclusion 
We hope these resources can help you improve your English.
Besides all these resources, something that is most important is self-practice. Make sure you spend a good amount of time helping yourself with English concepts and lessons. 
If you want to know how you can do that, check our article on how to learn English alone. 
Don't hesitate to put down your comments.