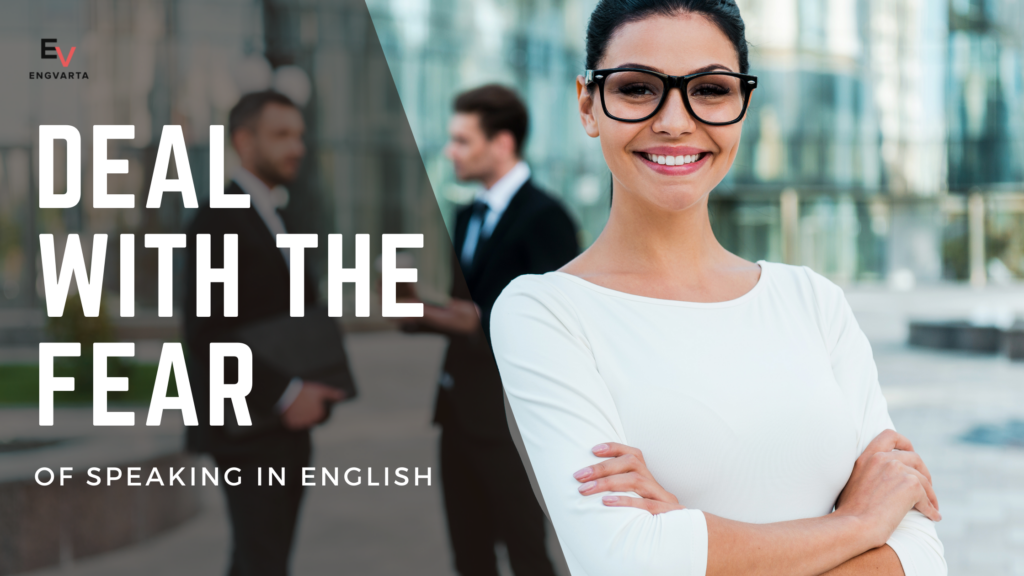 Hi !
Do you want to know what my struggle in life was? 
'I couldn't even speak English with my best friend '. That's how afraid I was of speaking in English. 
 I always had that notion inside my head that people around me speak better English than me and the moment I open my mouth to speak, they will laugh at me.
If you are here, most probably you resonate with me or this fear monster has become your best friend!
Now whenever you share this problem with someone, the only advice you will be getting is – It's all in your head.  
And trust me it's easy to say this but very difficult to take this monster out of your head.
So, no matter how many times someone comes and motivates you to speak in English. You land up at the same place again with the fear of speaking.
To begin with, let's write down all possible reasons of your fear of speaking in English  –
First, you are afraid because you think if you make mistakes people around you will be like, ' Hahahaha….Look at the girl… how poor her English is.'

You fear because people around you can be judgmental and no matter how intelligent you are – they will judge you for a language that isn't your native language. 

You never speak English or never had that environment to do the same so you have an almost negligible amount of confidence.
These are the top 3 reasons English learners fear (do let us know if you have any other fear).
If you connect with any of those three fears – You are not able to speak English because "What will people say if I speak wrong English?"
Tell me one thing, ' How many times has it happened that someone made a mistake in front of you & you laughed at him. Only 2 out of 10 people do that unless you are making mistakes in social media or public speaking.
People don't even remember what you said last time. You never did. 
It is the same way round. Sensible people who know that English is not your first language and you are learning it. They will never mock you. 
Instead, they will appreciate you for your efforts in speaking in English.
And the ones who mock you – they will do that even if you are perfect. 
You cannot stop them from judging you. They are as determined to judge you, as you are to speak in English.
So, there is no point thinking about 'such people' and refraining from conversations in English. Because the English language is just like any other skill.
Let's compare it with an instrument. Let's say guitar. People will keep appraising you until your chords go out of rhythm. But the good ones will appreciate your overall performance. The same thing happens when you speak English.
Engvarta, an English Learning App has been working for years to help learners from all over the country to overcome their fear and work on their English skills. And the solo philosophy is to improve English only by 'speaking in English more.'
Phew ! 
We are done with our  Psychology class today & now we will talk about 3 steps that had helped me to tackle my fear and speak in English confidently – 
Start with your minor fears
As you know – You cannot jump into the water directly to overcome the fear of hydrophobia. 
In the same way, you cannot start challenging yourself to go for Public speaking to overcome the fear of speaking in English. You need to keep patience and take little baby steps. Your first minor fear can be-
Talking to yourself in English.

Talk to your close friends or teachers in English.

Talking to your colleagues in English

Standing in front of the mirror and lecturing yourself for a minute or two in English. 

Joining and being a part of a conversation.
It's your call and you need to improvise accordingly to your level of comfort. 
Once you start overcoming these small fear monsters. You will definitely start conquering your greater fears. 
Start setting your English Learning Goals 
Set a goal or a daily task for yourself. As English is not your first language. You need to engage yourself and create an environment to practice speaking in English. English is about doing small things rather than just completing a vast course. You fear because you know you are not good at something. And to become confident, you need to be involved and set goals on a daily basis. Like learning a grammar rule or some phrases. Or speaking at least 15 minutes in English during the day. 
It adds small improvements on a daily basis that will make you confident.
Have Conversations in English with English speakers. 
Most of the time, you are not afraid of the 'English language' but are afraid of having 'Conversation in English'. And if you are able to read this article and understand every word, then your problem is not about understanding English. But it is about framing sentences and your ideas using the right words. 
Instead of focusing on grammar and vocabulary, have conversations in English with English speakers who can help you and motivate you to speak in English. And most importantly, someone who helps you to come out of the fear.
So, the next time you start having thoughts like, ' What if I fumble in between the conversation while speaking in  
 ' What if I make a mistake and everybody laughs at me?' 
' What if I forget words and mess up everything? 
Kick out this best friend of yours from your life & even if you make mistakes. Speak in English as much as you can. Because no matter how many such articles you read – You are the one who will have to fight against this fear.
For regular English practice with English experts, you can also download the EngVarta app. EngVarta is an English speaking and English learning app where you can learn English over phone calls with the help of live English experts.
In this English learning app, you will get a friendly environment where you can do daily English conversation practice without worrying about anyone judging you for your mistakes.