A Role Play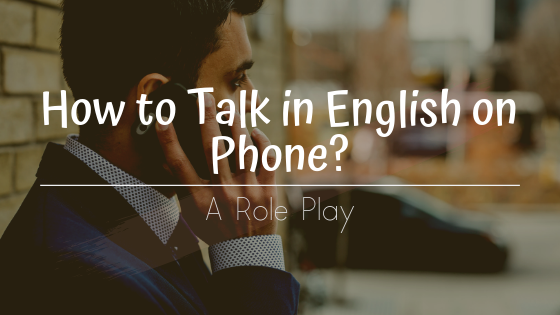 Today we're going talk about "How to Not Ruin" your telephonic conversation in English.
Let's give a start to this blog with a role play.
Suppose, Vanesha who is a fluent English speaker is calling her friend Mansi after so many years. They are childhood friends but Vanesha went to study in a convent school where she got a lot of exposure and she speaks English like a native speaker.
While on the other hand, Mansi finished her education from a state board in a Hindi medium school, where she was taught a lot of grammar but communication was never her best forte.
Now let's see how this conversation will be like
Vanesha– 'Hey'
Mansi– "Hello"
Vanesha– "Hello, is this Mansi?'
Mansi– Ji. aap kaun?.
Vanesha– Mansi, I'm Vanesha. didn't you recognize me?'
Mansi– 'umm.. aha..Hello Vanesha.HOOW…..KAISI HO?
Vanesha– I'm doing wonderful. How have you been? It's been so long since we last met.
Mansi– Yes, han han, I am GOOD GOOD. YOU tell?
Vanesha-'I am absolutely fine. Thanks :), I can't believe we're finally speaking – it was quite difficult to find your number. Anyhow – long time – whats up?
Mansi– ha ha long time, So what.. – tum kya kari ho aaj kal?
Vanesha– I am doing my Masters from Delhi. I am in town for couple days and I really hope we could meet. Do you have time tomorrow to catch up over coffee?
Mansi: WOW.. arre wah – Lets meet. Let's meet..Kal milte hai fir
Vanesha– Yeah, Awesome, So tell me a good place here?
Mansi – Good place…umm ah – how , CCD kaisa rahega?
Vanesha– that will be great. I'll see you tomorrow old friend.
Mansi – Great, Great..Milte hai kal.
Vanesha– It was really nice chatting with you. Bye bye Mansi Take care
Mansi– Bye.. Bye Vanesha.So you saw that Mansi could not talk fluently to her friend in English. Leave fluently, she was not even comfortable. And you know why? Because she we literally trying to translate her emotions from Hindi to English and she was failing back to back and that ruined her confidence in the conversation.
So now, let's see how this conversion can be corrected and carried out in the right way.
Vanesha-'Hello'
Mansi– 'Hello, may I know whom am I speaking to?
Vanesha– 'Hello I am Vanesha. Is this Mansi?
Mansi– Hello Vanesha. Yes, this is Mansi. How have you been?
Vanesha– 'I am absolutely fine. What about you?'
Mansi– I'm sorry you are inaudible.
Vanesha-'Hello? Mansi is there some network issue?
Mansi– No. I can hear you now.
Vanesha– It's been ages since we last met. Let's meet soon.
Mansi– Exactly. How about tomorrow?
Vanesha– Yes. I'm free tomorrow. What about Starbucks ..1 pm?
Mansi– Yes. sure. see you tomorrow then.
Vanesha– Okay then. Byee.
Mansi– Bye, Vanesha.
Conclusion
Do you daily role play practice like this? That is the only way you can perform in situations like this, which are not that bad,  just your brain has to do more work, hence the pressure is seen in front and it spoils your performance.
One simple solution is to consider that no issues, let's talk in Hindi only. But when your friend who speaks so good English is calling you after a long time then you can't say that so easy to carry out the conversation in Hindi only as you are still that old friend. No, this is not that easy as you have a gap now.
And if you have made up your mind that you have to talk in English only and if you want to make a good impression then you should get used to such conversations by hanging out with friends who talk in English and gradually you'll learn a decent one.
But if you think like you can not hang out with friends, who speak good English, it's a little embarrassing, then – don't feel down. We'll fix this problem.
Just download the EngVarta app on your smartphone, where you can practice your spoken English with experts who will help you prepare for such conversations.
For Regular English Practice with Expert: Download EngVarta Mobile App