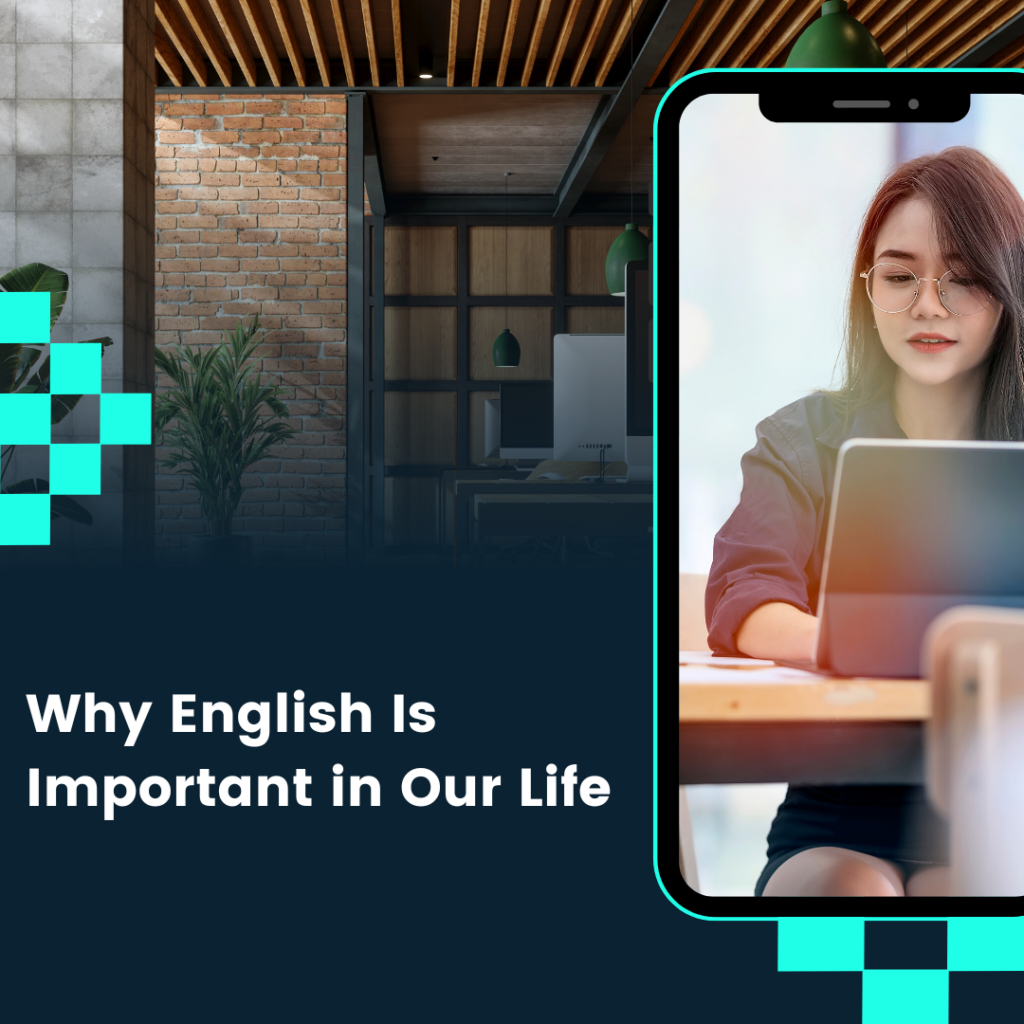 "Why is English important in our life?" Before proceeding with this question I have a question to ask and that is, "Is English really important to learn?" And the answer to it is undoubtedly "YES". At present, English is among the top spoken languages worldwide. 
English is not a language just to copy and paste the vocabulary from the dictionary, it's actually fun, it has emotions, expressions and is the best coupon to use when you meet other people around the world. Learning English can be a key to numerous doors in your career and will open up a wide area for the exposure. English is not only important for students only, but English is also important for working professionals too.
Connection to the world-
It's a fact, learning English can help you to explore and connect with new people, not just in some specific area or place but around the world. It can add new exposures and experiences to your life. As it is widely said, always remember to carry your passport, visa and a good knowledge of English with you while going on a foreign trip. 
If you dream of visiting several countries around the world or wish to settle in a foreign country, it is needless to say that learning English may give you a good start. Even if you don't travel to any of the foreign countries but still with your English speaking skills you can connect to various people on social media from around the world.  
Personal growth 
Let me begin with a very relevant example here: when you visit a ravishing hotel or restaurant and the waiter or waitress greets you in English or when you see your colleagues at office getting high increments and promotions because of being confident and fluent at spoken English during their presentations. At this point of time, you realise the real importance of English and how important it is to speak English fluently. Eventually you will work on your personal growth of spoken English skills. 
Interviews and competitions- 
Moving on, English gives a good impression of yours in interviews. And ignoring the language may affect your chances of selection. Learning the English language can surely boost your career growth as well. And not just interviews, you have a world outside to compete with. You have to set high standards for yourself in the world and English might be the first step to cover your high standards. 
Day to day usage- 
You may notice English is widely used and spoken in your surroundings in your day to day life. The menu at the cafes are mostly in English, schools are now charging fines from the students for not speaking in English, there are more numbers of English contents of English than of our native languages over the internet. Eventually, we can observe English evolving daily. 
How to Practise Speaking English?
Quoting a very famous quote of English here, "Practice makes a man perfect". And it has been scientifically proven that practice is the only way to learn any language easily and faster. Now a question comes how to practise English speaking because that'll take so much of your time in English coaching classes or how you will find the right person to speak with or who can correct your errors. Well this is what the Experts of EngVarta do. 
EngVarta is an online English learning app that connects the English learners with the English experts over a phone call. Here you are free to make English errors and speak English with your heart. No one is going to judge you. Here the experts will provide you with the necessary feedback. It aims to build confidence and fluency in spoken English.
English has become a way of living life. It has become dynamic & is constantly evolving. Eventually, learning spoken English is very important in our lives.