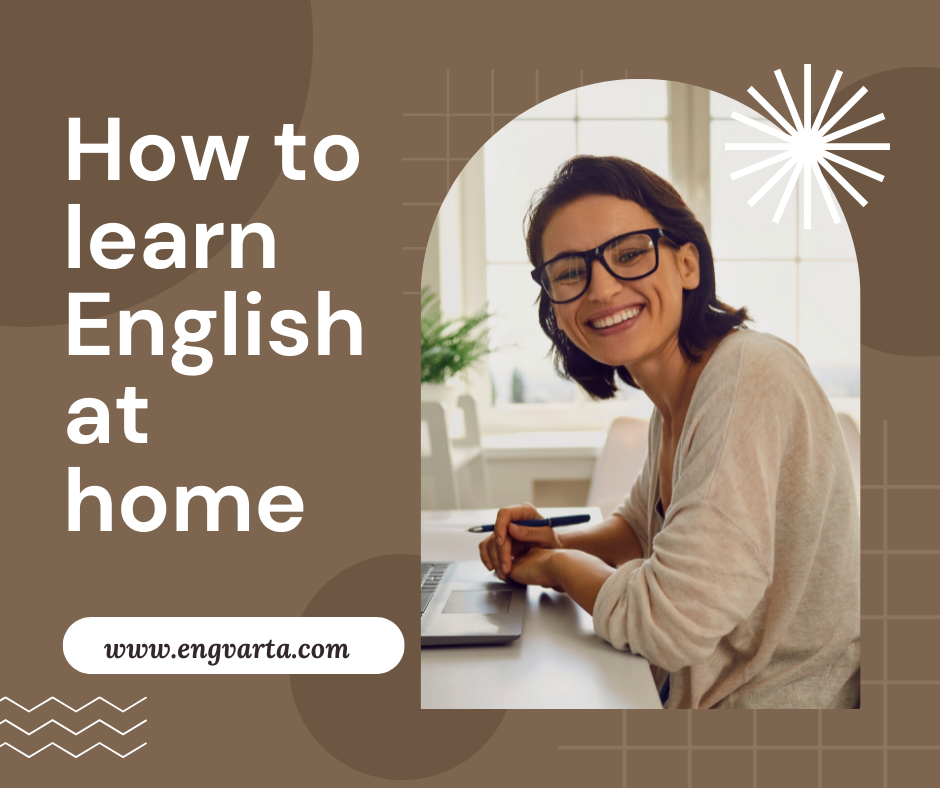 Do you want to learn English at home? Learning a new language is never an easy task but once you master it, you will understand its potential and be worth learning the language. 
Before moving on to the learning part I would like to address a very famous quote by Robert Montgomery that goes with a saying, 
"Home, the spot of earth supremely blest, a dearer, sweeter spot than all the rest" that briefs there is no better place to learn anything than your home. Same goes with learning English at home. 
Learning a new language is never going to be simple when you don't have the specific language environment around you. I know you must have tried speaking in English with your friends or to your colleagues however you would have got mocks or hesitations and so you are here, searching for a solution to your problems.
I know it's not that easy to learn a new language but trust me learning English is worth it for your future dreams and career. 
A lot of people join offline English learning classes and get even more confused and down because of their low confidence skills when they see the crowd surrounding them with numerous people. If you are really serious about learning and speaking in English and looking for ways to learn English at home, please continue reading!!
How can I learn English at home?
Talking about how to learn English at home? 
Here I have my true story to deliver so that you can relate to it better. It was during the pandemic year(2020), frittering away time, procrastinating everything, and wasting my whole day over unproductive things when I realised I should use this time instead of wasting it on useless stuff. 
I was one of the most "SHY" kinds of girls back in my school and at the office. And that was not because I didn't know or understand English, even though I did, I was never sure about what to say or never found the right words to speak. So I promised myself to work on my spoken English and communication skills during the pandemic.
Huh… Learning a language when you have no one around you or to practise with was a tough thing.
For about a few weeks I scrolled down the screen searching for some helpful English learning apps or content to learn from and then I discovered a few online English learning apps for android and iOS that you can use to learn English at home.
I started using Duolingo, EngVarta and Grammarly. Duolingo and Grammarly were however unpaid whereas I took a month's plan at EngVarta.
At Duolingo, I got numerous practice questions based on vocab and grammar. And talking about the paid app EngVarta, spending my money for a month plan was worth it. The experts there worked on my spoken English. I was given assignments after every class and with a month of consistent practice, I improved a lot.
I knew I was good at written English so I rarely used Grammarly. Anyways, it always saves me from grammatical errors.
That was all about how I learned and improved my English at home.
Foremost, let me tell you "Sometimes you have to stand alone just to make sure you still can". Do you know? Practicing a language just requires a mirror and you. Yes!! It does. If you have no one around to practice English then you can just go to the mirror and start your practice by self-introduction. It's that easy. 
Or why to even go to the mirror if you have your phone in your hand? Just make a video or voice recording clip of yours while introducing yourself or you can also narrate a story of yours while recording your voice. 
Trust me!! recording your voice and video while practicing English will not only improve your fluency in English but will also add stars to your accent and expressions. And will make you comfortable with the flow. Also it is one of the best methods to learn English at home.
You know the language, and you can understand English, it's just that you need some practice to improve your fluency in English while speaking. And only you are the right person who can help yourself to improve your English speaking skills. 
In addition to this, watch English movies or content that interests you. Watching movies in English can help you in learning English at home.
Remember: never waste your time on the contents that you are not interested in 
Always watch the contents that you find good or interesting. At the very beginning, you may find the English contents a bit boring but trust me after some time you will find them interesting. 
Now you can fetch good words and phrases from the contents that you watch or listen to. 
Start your English learning journey from today!! And always remember that YOU CAN and YOU WILL do it.