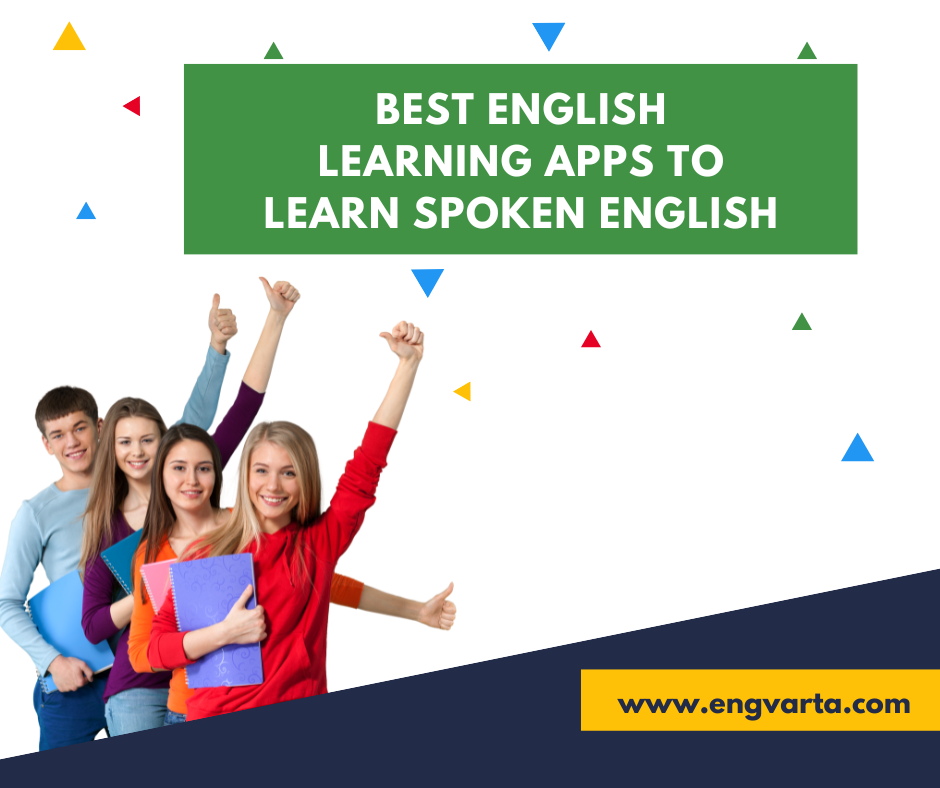 Learning a new language is an ongoing trend these days and living in such a globally diverse world it is quite amazing to learn a new language as a skill. In today's globally diverse world, English has become the global language and is spoken in almost every area of the world, therefore learning it has become rather widespread.
However, learning English has become a challenge for many. To be able to find the right environment to practice in with the right teacher can be a tough task. People often opt for 30-day English learning classes to learn the language but what if I tell you that there are various English learning apps available as well that provide you with a similar type of service? 
English learning Apps that not only help you improve your English over time, but also allow you to utilise their services without having to leave your house.
There are various English learning apps available online that you can use and improve your English over time but in this blog, I will be listing a few top English learning apps that will eventually help you improve your English speaking skills. 
Best English Learning Apps to Learn Spoken English
The first English learning app in the list is Engvarta, it is one of the best online English learning applications that allow users to have a one-on-one interaction with an expert over the phone. There is no real-world connection whatsoever, all you have to do is make a call to an expert and start with your practice.
The best part about this English learning app is that the user as well as the expert get to stay anonymous throughout the session therefore the fear of being judged is completely out of the window. You can easily select a nickname for yourself and start with the practice. 
Furthermore, this English learning app allows you to use all of their services at your leisure, in the comfort of your own home, without having to move a muscle. In the midst of their hectic routine, users can quickly contact the English speaking experts via phone calls and practice their English.
This English learning app also provides you with a vocabulary series on a daily basis which is absolutely free. Users can easily avail this feature of Engvarta by simply registering on the app and will receive daily vocabulary updates in their Email. 
In simple words, EngVarta is a sure-shot solution to all your problems related to English communication. EngVarta will surely assist you in reaching your aim of becoming fluent in English communication.
Duolingo 
Duolingo is also a quite famous English learning app available online. This English learning app not only helps in learning English but also provides several other languages like Korean, Spanish, German and many more. Duolingo exercises are designed to help users effectively learn new words and vocabulary.
It uses game-like lessons to help you learn new English words, phrases, and grammar. Duolingo is a language learning program that teaches you grammar, spelling, words, phrases, and conversational English. The methodology of this English learning app is mostly based on phrase memorization. This means that students will most likely need to use different approaches to understand the structure of English.
Memrise 
Memrise is an English learning app that will help you get started with some English courses especially if you are a beginner or want to enhance your English. Their user-friendly language learning method is intended to make the practice enjoyable, simple, and addictive. 
Memrise creates English lessons for beginners and focuses on getting people to communicate in English as soon as possible. It provides you with the necessary speaking practice. Memrise's English learning app basic English course divides learning into short sessions that you complete every day, allowing you to always find time for practice at home or on the move.
Babbel 
Babbel is an English learning app that strongly focuses on vocabulary and grammar. It also emphasizes assisting English language learners in developing basic conversational skills. Babbel also provides the feature of completing and repeating sentences which helps in learning a new language. 
The English learning app also allows users to set goals and benchmarks for themselves to track their performance and stay motivated. Babbel believes in a practical approach to learning and focuses on four approaches i.e. sound recognition, image recognition, spelling, and fill-in-the-blanks. There's also a useful flashcard feature for memorizing sentences and terms from previous lessons.
Busuu
Busuu is one of the Spoken English learning app that is recommended for beginners trying to learn English. The software mixes human and AI-powered instructions to help you learn a language faster. Busuu covers all the basic fundamentals of learning a new language i.e. reading, writing, speaking, and listening, and provides a well-rounded approach. 
Busuu, English learning app allows you to create your own study schedule and even provides you with reminders to get back to practice. There is also a forum where you can discover language exchange partners. Overall it is a great English learning app to start learning English if you are a beginner. 
Lingo Deer
LingoDeer is an interactive English Learning app that has systematic software. In this English learning app, Users can practice English at their own pace and according to their own ability. The classes and exercises focus on the reading, writing, and listening part which eventually helps enhance communication skills. Lingo deer provides a well-organized set of exercises and topics that will eventually help users in improving their language day by day. Also apart from English the English learning app included various other European and Asian languages as well.  
So yeah! That's it. These are a few best English learning apps that you can turn to in order to improve your spoken English while sitting at home. 
If you are an Indian and looking for some best Indian English learning apps – Check the list of Best English Learning apps in India 2022