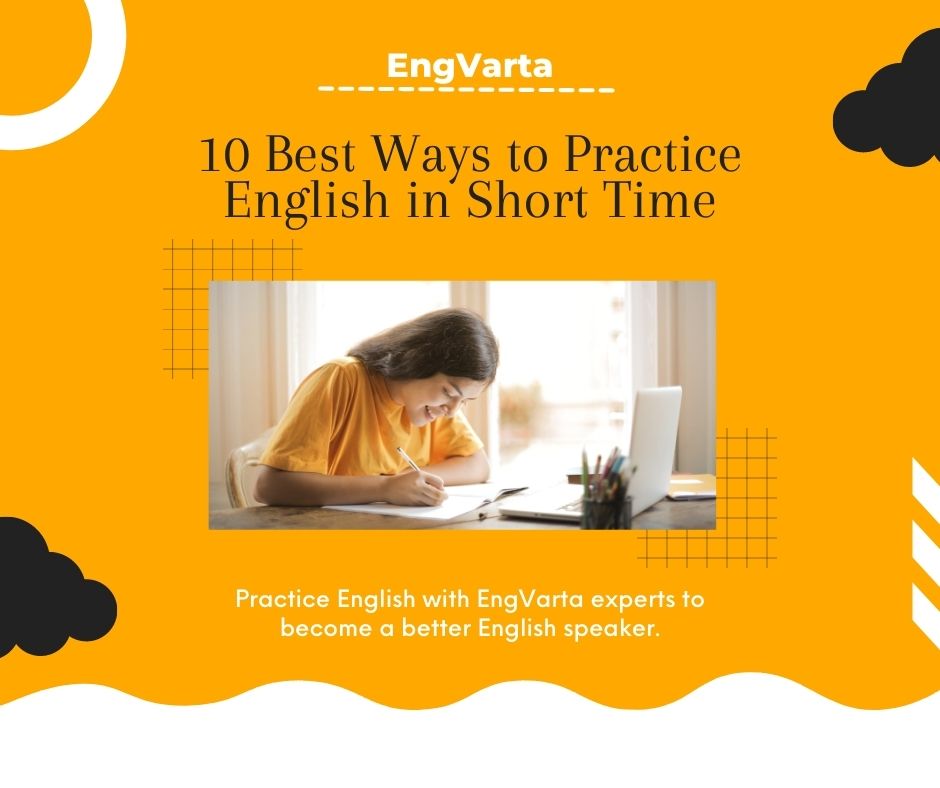 Learning English can be difficult, but don't give up! With enough practice and the right resources, you can start speaking English confidently. If you want to improve your English skills, there are several steps you can take to get started. The best way to learn a language is to build a habit. When you do something as a part of the habit, it doesn't stay as a task. 
There are 10 things that you can do to learn English every day is : 
 Improve English with authentic videos 

Get a fun English app on your phone 

Have an English learning partner 

Track your progress 

Learn interesting English words

Listen to a podcast or an audiobook 

Use flashcards to improve vocabulary 

Sing English songs 

Describe pictures

Pronunciation exercises 
Improve English with authentic videos 
You've probably heard that watching movies in English with subtitles is a great way to improve your listening skills. But what about watching videos? Videos are actually even better than movies for improving your listening skills. You don't have to spend more than 15 minutes, They are easier and more fun to understand because they're shorter and more conversational. In videos, you learn expressions that you don't find in books. You learn about real people, real situations and by watching videos, you also make an attempt to speak like them. 
You can learn casual English through funny clips, music videos, inspirational talks, and many more. 
You want to learn English, but having the right resource at the right time is always a problem. 
Having a handy, well-featured pack app can help you save a lot of time and work on your English anytime and anywhere. There are several English learning apps for almost everything, like vocabulary building, grammar practice, pronunciation, and speaking practice. You can go from free apps to paid apps according to what you want to focus on. 
Have an English learning partner 
You do everything in your hand to improve your English. Starting from learning grammar rules and memorizing vocabulary, what you don't focus on is speaking English every day. Especially with someone who can speak English. 
This is just like you want to swim. You know the diving rules but you never actually went into the water. It is important that you take help from English learning partners who can help you to speak in English on a daily basis. 
Engvarta is a platform where you can practice English with live English Experts daily. Maybe it is your next interview or you want to excel in your communication skills irrespective of your  English level. 
Track your progress 
You are putting in your efforts every day. It is important to know what method is bearing results and what is not. Tracking your English improvement is an important part of your daily habit.
Check this video to know how you can track the progress of your English speaking skills 
How to track your English improvements | SELF ASSESSMENT METHOD 📈📊
Learning interesting English words 
Learning interesting English words can improve your vocabulary and help you express more ideas. It can also make you more knowledgeable in everyday conversation, and people will be impressed by your larger vocabulary.
There are many ways to learn new words. One way is to read a lot. When you come across a word that you're not familiar with, write it down and look it up when you're done reading for the day.
Another way to learn new words is to carry a small notebook around with you and write down new words as you think of them or hear them throughout the day.
You can also find lists of new words online and study them when you have time. You could even study with a friend, test each other on the words, and play games like hangman or charades to practice using the words together.
Listen to a podcast or an audiobook 
This is a pretty simple way to improve your English, especially when you're on the go. You can listen to these things while you're driving, taking the train to work, or doing housework. 
One of my favorite podcasts is "The Allusionist". It's about language and words that we use every day.
Use flashcards to improve vocabulary 
If you want to improve your vocabulary, flashcards are an easy and effective tool.
You can use online flashcard sets or create your own. Either way, you should start by reviewing just a few cards at a time. If you're making your own cards, choose words that you hear or read frequently but don't know what they mean; also include words that have subtle meanings that you need to understand to use them correctly. Look up the definition of the word and write it on one side of the card. On the other side, write a sentence that uses the word correctly.
Start out by reviewing just a few cards every day, then add more as you're able to master them. That way, you won't get overwhelmed by trying to remember too many words at once. Repeat this process until you've mastered all of your vocabulary flashcards!
Sing English songs 
One of the best ways to improve your English is to sing along to songs. It's a fun way to learn new words and phrases, and the repetitive nature of the lyrics will help you memorize them.
You'll also get more comfortable with English pronunciation, which will help you speak English more fluently and confidently. When you sing along with songs, you'll learn how to properly pronounce words and stress syllables in sentences, as well as learn new intonation patterns.
The best songs for learning are ones that are popular right now, since they have a lot of exposure and can help you understand conversation topics. They also tend to have a lot of repetition, so they're easy to pick up quickly.
Pronunciation exercises
Pronunciation is the way in which a word or a language is spoken. This may refer to generally agreed-upon sequences of sounds used in speaking a given word or language in a specific dialect ("correct pronunciation") or simply the way a particular individual speaks a word or language.
Conclusion 
The more you use these techniques, the better a speaker you will become. You can even practice using them in the foreign language that you work in to get a feel for the phrasing and intonations of your target language with native speakers. Gardening is one of the best ways to learn English because it's a flexible hobby that won't require huge time commitments from you. Just make sure to have a lot of fun and practice these important skills.